Feature Story
CartStack's Brett Thoreson shows us that slow and steady can win the&nbsprace
Sustainable growth that keeps customers at the core is the goal for this software company&nbspco-founder.
Artwork by Christine Kim
•
7 min read
Rocket ships, unicorns, seed rounds, angel investors, burn rates — this isn't Brett Thoreson's day-to-day vocabulary.
In fact, the CartStack CEO bucks the mainstream media-fueled founder stereotypes: He's pragmatic, steady, and — dare we say — relaxed.
"I think my co-founder and I put together a company we wanted to work for," he said, referring to the ecommerce-focused shopping cart abandonment solution he started with his business partner, Dave Mattson. "And a company where we could stay for the long run."
You could say it's been a semi-long run already. Brett and Dave had their first paying customer in 2013 and then slowly built CartStack on a nights-and-weekends basis for the next few years before jumping in full time.
While Brett openly admits he's just like any other business owner in the sense that he still chases that good ol' hockey stick growth chart, he's continuously proving that slow and steady can also win the race. CartStack's annual recurring revenue generally grows by 15%-25% each year.
"When you grow slowly over time, you're forced to make decisions around how to spend," Brett explained. "You're still trying to be optimistic and trying to uncover something, but slow growth is OK. And it's often, in many ways, more stable."
Sure, "slow growth" might not have the same ring to it as "unicorn status," but Brett doesn't have his head in the clouds and he's not angling for a mythical creature.
He'd rather keep CartStack firmly planted in reality and decidedly focused on what matters most: being human.
In today's tech-obsessed world, there's definitely some rare magic in that.
My co-founder and I put together a company we wanted to work for. A company where we could stay for the long run.
Brett Thoreson
CartStack Co-founder
Bootstrapping CartStack: The first few steps of a steady uphill&nbspclimb
Brett's founder story might not be one of those mind-bending tales of a meteoric rise, but his industrious approach and CartStack's resulting reliable growth have yielded some pretty seductive benefits. For example, he typically logs a reasonable 40-hour work week — stopping very short of the 70-hour week many founders feel compelled to put in.
And as the leader of a fully bootstrapped business, Brett isn't beholden to investors.
"I like our product," he said, reflecting on the most fulfilling aspects of being a founder. "I like the team of people we've hired. We're small enough to where I still play a little part in [all areas of the business]. I'm extremely flexible for my family. I like that I answer to myself, and I'm self-motivated enough to do that."
That kind of balance has long been the goal for Brett, who says he's always "had the bug" for entrepreneurship. That bug also runs in the family: Brett's father owned his own company.
It didn't take long for Brett to dip his toe in the water, too. At just 11 years old, he started his first business in conjunction with his friend and his friend's sister: a lemonade stand-style operation that centered around making threaded bracelets and necklaces to sell street-side.
When the local TV station did a news story about the trio's jewelry startup, the kids had their 15 seconds of fame — and the seeds of Brett's future founder life started to germinate.
But his next go-around didn't come until 2009, when he started his own web development shop called 10fold Solutions. There, Brett collaborated with Dave — a Best Buy employee at the time who was leading BestBuy.com's cart abandonment solution — to develop the email marketing logistics for Best Buy customers who had walked away from their online shopping carts.
The result of the collaborative effort? As of a few years ago, it still stood as Best Buy's most profitable email campaign.
"There are a lot of big numbers at Best Buy," Brett said. "So it was very easy for us to test things, look at trends, personalize different transactional messages, see which ones convert better, etc."
Little did Dave and Brett know, that steep learning curve would become the prologue to CartStack's origin story.
Word got out, and soon 10fold Solutions' ecommerce customers wanted in on the shopping cart abandonment wizardry Brett and Dave had whipped up.
After a period of beta testing with these initial customers –– and the realization this could be viable as a stand-alone business — CartStack was born. The company's hallmark slow-but-steady ascent began.
Walking hand in hand: Keeping customers at the heart of&nbspCartStack
Today, CartStack has a stable of contractors and a small-but-mighty team of six full-time employees — all of whom are laser-focused on the company's customers.
"One thing I like about ecommerce is the fact that you can tie things back to revenue pretty easily," Brett said. "We can say, 'Look, in the last 30 days, our tool recovered x amount of dollars for you.' So our product naturally puts the customer first…and we provide really good customer support."
CartStack's forward motion has always been fueled by conversations, experiences, and relationships with customers — not by the fear of being outdone by competitors.
In fact, two of the company's three core values — "treat people awesome" and "customer profits first" — are intentional reminders there are real people at the beginning, middle, and end of each line of business.
It's a refreshing approach for a company whose products are specifically targeted at improving transactions that take place exclusively in the echo chamber that is the internet.
But Brett knows that consistently bringing a sense of humanity into what could be just another faceless numbers game is the secret sauce that keeps customers coming back for more. Plus, he says, it's low-hanging fruit.
And Brett doesn't just talk the talk: Until about a year and a half ago, every CartStack customer support ticket landed directly in his inbox. "I would spend dedicated time looking through tickets," he said.
Being inundated with inquiries probably isn't too foreign to Brett — after all, he has some pretty demanding customers at home, too: his six kids. "The beautiful thing about a large family is that our kids naturally learn to help each other out and become more responsible for themselves. While that doesn't always happen with customers, we're happy to be able to step in and bridge the gap to help them solve challenges," Brett said.
CartStack's customer tickets now funnel into a separate dedicated inbox, but Brett says he's still in there multiple times per week, reviewing inquiries and connecting with his teammates about them. "My support team knows that when we have one-on-ones each week, we will delve into some of these tickets."
"It's such a source of being close to your customers," he said. "There's just so much insight that you can gather for future products, trends in the market, training for employees, testimonials…it's hard for me to imagine not having some visibility into it."
Help desk software for customer-centric founders
Help Scout's platform is easy to start and built to scale as your business grows.
Free 15-day Trial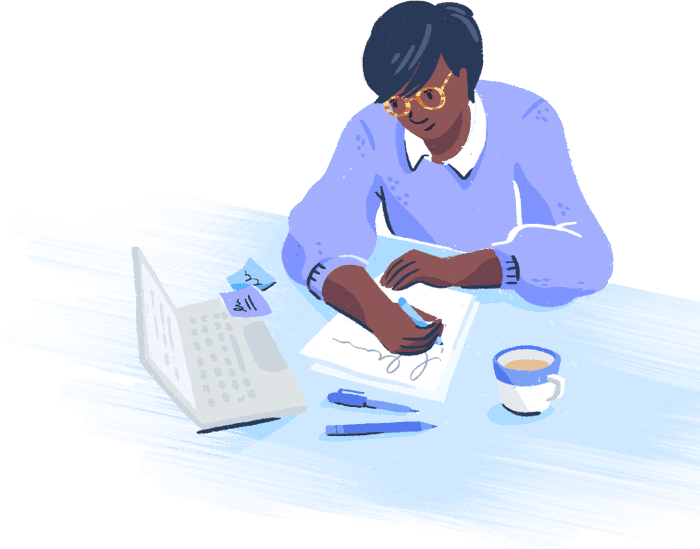 Even the tricky inquiries don't seem to dismantle Brett's cool, calm, and collected demeanor. After all, he maintains that most "bad" customers are actually just challenging.
"A challenging customer might ask you difficult things or have a more annoying sense of urgency," he explains. "But most of the time they're not a bad customer — just a challenging customer that's going to push the product forward. So, I try to get the team to think, 'I'm gonna turn this conversation around,' versus, 'Oh no, not this guy again.'"
The CartStack team also specifically carves out time and budget for random acts of customer kindness — or, "RAKs" as they refer to them internally.
They do one $50 RAK a month and one $150 "Grand RAK" each quarter. Grand RAKs have been everything from a pizza party for a customer's entire team to a cake topped with a URL that led to a thank-you video.
"You just have to decide to do stuff like that," said Brett. "It doesn't take anything exceptional as far as technical ability."
At the end of the day, Brett's convinced that as AI creeps into just about every aspect of business, keeping things unmistakably real will be an ever-increasing draw for customers.
A new horizon: The road to&nbspRezRecover
Besides just being good business practice, those very human interactions have been good for business: They've helped guide CartStack toward new industries, products, and, ultimately, revenue sources.
As a result of many customer conversations — and, of course, keeping tabs on the numbers along the way — the company now does some work on form abandonment, like targeted personalized application-related emails for online for-profit colleges. They're also moving into the world of ticketing for shows, museums, and festivals, serving email prompts to potential participants who've added tickets to their carts but haven't actually followed through with purchasing.
But their biggest move to date has been a leap into the hospitality industry after noticing that agencies, hotels, and resorts were signing up for CartStack in an effort to sell more of their available rooms.
After a few years of organic growth, hospitality customers became almost one-third of CartStack's business. So, Brett, Dave, and their team built and launched a hospitality industry-specific abandonment solution called RezRecover.
"Launching a new product gave me another injection of excitement," Brett reflected. "We do things pretty quickly too. As a small company, we have very quick iterations on things. We don't have a bunch of red tape or a huge QA process."
And in a tone that's anything but wild, he adds: "I kinda like that Wild West."
The rearview mirror: Lessons learned from taking the scenic&nbsproute
As Brett reflects on his founder journey and a decade-plus of the CartStack story, the lack of flashy funding rounds and the fact that his dependable SaaS business flies largely under the radar — sans unicorn wings — haven't stirred any regrets.
The CartStack CEO has some advice for aspiring founders, particularly those looking to bootstrap their own businesses: Don't hang your hat on just one vertical or distribution model, never stop trying to uncover your secret sauce, and make sure you're comfortable with slow growth.
After all, "slow growth" might be what keeps your doors open for the long run.
"The unicorn companies that everyone knows of — there's a couple thousand other companies that started out very similar that are nowhere to be found," he said. "Over time, I've learned not to judge myself against those unicorns but to focus on building a company that I'm excited to wake up and work on every single day."