Grow
Building a customer-oriented ecommerce business through better human&nbspinteraction
Focus on interactions, rather than transactions, to create an online shopping experience that keeps customers at the&nbspcenter.
Artwork by Heather Manning
•
13 min read
Kristi Ernst Thompson grew up working in her family's bakery, a business built on personal interactions — and lots of delicious treats. "My dad greeted every person who came in the door by name," she said, "and both my parents were in the bakery every day, getting to know their customers." 
Today, as a technical support specialist at Help Scout working with companies across ecommerce, software, and other industries, Kristi sees firsthand the same power of human connection and personalization she witnessed in her parents' bakery — even when the customer experience is completely online.
"Ecommerce companies don't have the opportunity to greet a customer by name when they walk in the door, so that means intentionality and creativity are required to connect with customers," she said. "But, for a customer-centric business — online or brick-and-mortar — the goal is the same: It's about building relationships with your customers."
Like all relationship-building, making your ecommerce business feel more human through meaningful interactions is a process that takes time. It's also an effort that requires the input and skills of the entire team; it's not a task you can assign to one leader or a box you can check just once during the customer journey.
Ideally, according to Mat Patterson, Help Scout's customer service educator, if you're humanizing your customers' experience, you're actually looking at every point along their journey and asking how you can make each interaction more personal.
"It comes down to a lot of different choices you can make in how you present your service to the customer — from language choices to incorporating flexibility and agency into what otherwise might be a very structured and automated process," Mat said.
While it can be a bit more complex to build relationships with customers online than to nurture connections with brick-and-mortar customers, the impact of humanizing your ecommerce company is well worth the effort. Creating an experience that prioritizes interactions over transactions, keeps customers' needs at the center, and builds trust over time will help you grow your business through brand loyalty — and, ultimately, increase sales and customer retention in the long run. 
Read on for tips to help you and your team interact more intentionally with customers throughout their buying journey.
Help desk software for customer-centric founders
Help Scout's platform is easy to start and built to scale as your business grows.
Free 15-day Trial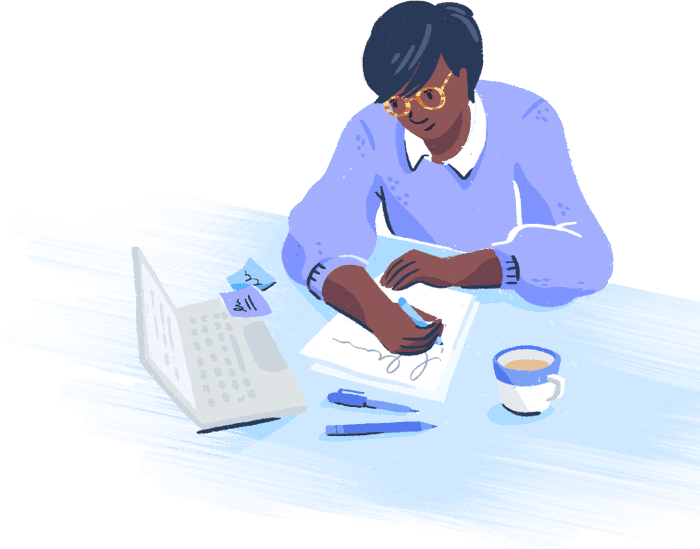 4 ways to keep your team and your customers front and center 
---
1. Create a company culture that prioritizes human&nbspinteraction
If you want your customers to feel that they are being treated as human beings rather than as transactions to be processed, your team needs to feel the same way. When founders, company leaders, and managers are present and show up with empathy to advocate for their teams, Kristi said, both customers and internal team members see the benefit: "Care has a trickle down effect. If you're genuinely caring for your team members and taking the time to make sure they feel valued and heard, they'll be able to better care for your customers. It's the best investment you can make as a leader."
When leaders lean into a human approach while interacting with both employees and customers, that effort spreads to teams across the company. "The internal attitude shapes the external attitude," Mat said. "Cultural issues end up having a customer impact."
Another key step for leaders intent on making the customer experience feel more human? Get in the mix. It may seem obvious, but if you're building a genuinely customer-centric ecommerce company, spending time interacting with customers one on one is essential to understanding their needs and shaping how your team shows up throughout the customer journey. 
At Help Scout, a tradition of Whole Company Support (WCS) keeps leaders and the entire company close to customers — and to the experience of the customer support team. During scheduled hour-long blocks (called "power hours" internally) each quarter, every person in the company spends time in the queue answering customer questions and requests. 
"In our WCS training, we always say 'the customer is at the center of everything we do,'" Kristi said. "When we give everyone in the company opportunities to talk with our customers, from the founders to the designers, it allows us to get to know the real people we're building products for. It's so powerful to see the feedback loop shortened when customers tell our engineers directly what they love about our product (and what they'd change!)."
For Help Scout's co-founder and CEO, Nick Francis, continuing to jump into the queue himself remains essential as the company grows. "Data is important, but believe me: It's impossible to know your customer by looking at a spreadsheet," he said. "There's no substitute for spending a half-day in the queue, joining a few Sales calls, or watching a customer use what you've built. The more we do that, the more we'll realize that winning isn't about checking all the feature boxes — winning is about solving our customers' challenges better."
---
2. Bring humanity into the look and feel of your online store  
A compelling storefront display has the power to draw a customer off the street and into a shop. But once in the door, the other elements of a positive shopping experience also need to be in place: helpful (not overbearing) and knowledgeable salespeople; a well-designed physical layout that's easy to navigate to either browse or find the item you're looking for; well-stocked inventory; and a smooth checkout process.
When you're building an ecommerce storefront, both the initial draw and all of the in-store elements also need to exist online. That means infusing humanity — the voices, faces, personality, and flexibility that come with real human interaction — into your site and social platforms to help folks connect with your brand and have a positive experience while shopping. 
---
A visual identity that resonates
The visual identity you create for your ecommerce store plays a central role in shaping the customer experience. Matt Plays, creative director at Help Scout, said: "There are so many levers brands can use to humanize the look and feel of an ecommerce site. The foundation is often a design vocabulary and brand direction that resonates with their community and audience. But that foundation is amplified by layering in stories, lifestyle photography, product detail shots, and diverse on-model photography."
The ideal result is finding a beautiful way to reflect your company's values, but the impact of this work is even deeper. "If it's done right, honoring your industry and customer base," Matt added, "your brand can resonate on a cultural, emotional level with your customer. When folks see themselves in a brand, they often become advocates."
---
Personal interactions along the buying journey
As a customer engages with and navigates the site to make a purchase, you'll want that connection to also incorporate plenty of opportunities to interact with humans along the way. There are specific tools that can help you bring real people into the journey, including live chat, video content featuring team members, and personal or "concierge shopping," in which a product expert evaluates a customer's needs and curates a selection of personalized product recommendations.
All of these tools insert person-to-person interactions and a more customer-centric approach to a process that could otherwise be cold and impersonal.
As you interact with customers in your online shop, don't forget to keep the conversation going via social channels as well. Communicating with shoppers in the wild offers a great opportunity to highlight the great service you provide and show your brand's personality, which goes a long way toward humanizing the online experience. For more about offering support through social channels, check out these links:
---
3. The real MVPs of human interaction: Customer&nbspsupport
As you consider all the ways you can make a customer's journey on your site more human, don't forget the vital role of your customer support team. There are plenty of ways to make it clear that there's a human behind the branding and marketing elements of an online business, but perhaps the only time anyone ever actually speaks to a human is going to be through customer support. 
Often, these conversations revolve around problems or pain points, but that's when having a knowledgeable and skilled human voice is most important and can differentiate your business. That personal connection at a point of friction creates the opportunity for a pivotal moment that can restore a customer's confidence in your company.
Being the voice or the face of the company in those moments can be tough, but it can also be a time for the folks who are among the only actual humans in your online shop to shine. For Kristi, a human approach to these situations looks like thinking outside the box to meet — and exceed — customers' expectations. "As the experts, we should anticipate customers' needs and questions — and help solve problems they don't even realize they have," she said.
By being proactive, we're not only helping the customer save time and be successful, but hopefully we're saving ourselves time by cutting down on unnecessary follow-up emails.
Kristi Ernst Thompson
Technical Support Specialist, Help Scout
4. Empower your team to communicate like the humans they&nbspare
It's important to give everyone on your team (support staff and anyone else who is communicating with or creating content for customers) the tools and training to reflect the values and personality of your business.
Creating a style guide with specific direction for your company's tone and style is a great first step. These guidelines will help reflect your brand values and the human voice with which you want to tell your story. With this tool, team members can communicate naturally — and on-brand — with confidence across one-on-one conversations and marketing content published on your site. 
Although style guides are effective, empowering team members to use their own voices when appropriate is also key. Even if there is a brand guideline for tone and voice, it should never be obvious. The customer shouldn't feel that the person they're having a conversation with is simply repeating a script. 
How to avoid this scenario: Put in the time to train team members in the company's products and processes, and focus on helping them gain confidence in sharing their knowledge with authority. It's an approach that Kristi has seen play out often to create meaningful connections with customers.
"Our support team has freedom and autonomy to make decisions to do right by our customers — and to match their tone and voice," she said. "I can be light-hearted and joke with customers if that aligns with their tone, and I'm also trusted to communicate more seriously and efficiently with a customer who's dealing with something urgent. I love that I have the freedom to discern how to communicate with customers just like I would if we were talking face to face."
As a company grows, training more people and maintaining a consistent tone and voice can lead to rigid guidelines to shape interactions. But, Kristi said, enforcing rigid conventions can backfire: "This may give managers a sense of control, but it ultimately destroys the magic of authentic human connection between staff and customers." If possible, continue to lean into a culture of trust and autonomy to maintain a genuine experience for your customers.
Make meaningful connections with your customers to set your brand&nbspapart
We all know the disconcerting feeling of being overlooked or ignored in a brick-and-mortar store. On the other hand, we've also all likely felt the validation and confidence of a purchase made from a salesperson who is friendly and knowledgeable and efficient. When that person sees you and your unique need or want and sends you home with just the right thing, that feels great. You've probably been back to that store multiple times — and told your friends about it. 
All of those feelings and experiences happen online, too. The value in creating human interactions for your ecommerce customers in which they feel seen and heard as they navigate and shop can't be overstated, and your efforts can go a long way toward building loyalty and growing your business.
---
A version of this post originally appeared on the Help Scout blog.