Feature Story
Kathryn Finney wants everyone to&nbspwin
The entrepreneur, investor, and founder of Genius Guild is reimagining venture capital to celebrate and invest in Black&nbspbrilliance.
Illustration by Erik Blad
•
13 min read
When Kathryn Finney and I connected for our interview, she had just come from another meeting, and she had a few things on her mind. 
It was the second week of January, and we were in the midst of another surge of the pandemic. Public schools in Chicago, where she lives with her husband and son, had only recently reopened after teacher strikes. I think it's pretty safe to say that the global vibe was, well, intense.
When I asked how she was feeling — as a founder, investor, and human being — in this seemingly unending marathon of uncertainty and challenge, her response was pretty quick. 
"You know, there's a lot going on. I'm frustrated by the lack of leadership around how we're all supposed to be navigating this time," she said. "Seeing all the issues around caregiving, economic inequality, and how families are being affected is really frustrating. As a leader of a team, I have such an appreciation for the challenges that individuals are going through."
But because at her core Kathryn is an entrepreneur, she offered up hope for a solution in her next breath: "Despite all the challenges, I'm also really aware of the great opportunity that can come from this time and the conversations it sparks. I'm excited about the possibilities for innovation and change this will create."
With a master's degree in epidemiology from Yale and a career path that has included public health work in Africa, founding and successfully exiting the first online lifestyle media company founded by a Black woman, and leading a social startup for Black and Latinx women entrepreneurs, Kathryn's path has been defined by her ability to see opportunities for herself and her community that others may not.
Today, Kathryn is the founder and CEO of Genius Guild, a reimagined venture studio model that supports and invests in Black women founders who are building businesses to serve their communities and beyond. Kathryn also serves as general partner of the organization's pre-seed venture fund, The Greenhouse Fund. Her role as a founder and an investor, she said, is "really the culmination of all my work, and, if I'm honest, of my entire life experience."  
---
Calling out capital as a force for good 
Throughout her life — in her career and in her family — Kathryn has had a front-row seat to the power of both innovation and entrepreneurship to transform individuals, families, and communities. She's also seen up close the limitations and systemic flaws of a funding ecosystem that doesn't play fair.
After transitioning to tech roles from her early career as an epidemiologist, Kathryn had several impactful experiences — as a founder of her own company and in other women-led organizations — that showed her what was possible when women innovate and win. "Those experiences showed me the potential for great reward from taking risks — and changed my family's future. It was powerful."
When the pandemic hit in the spring of 2020, Kathryn was serving as founder and CEO of digitalundivided, a nonprofit business incubator developed to support and fuel female entrepreneurship in Black and Latinx communities. As businesses shut down across the country, she saw women founders, in particular, reeling from the economic impact. 
In response, digitalundivided authorized funds to provide small grants to community members, and the result was eye-opening. "These grants were only $1,000 each, but they had a profound impact. It actually took me aback. People were calling and texting me, crying and thanking me. One of our founders said, 'I can go buy food.'" 
The experience inspired her to do more. After canceling her family vacation due to the pandemic, she used the refund from her trip to launch the Doonie Fund, named in honor of her grandmother, to make micro-investments in companies founded by Black women. From her initial personal donation of $10,000, the fund grew to over $150,000 and made 1,500 investments. 
"Seeing the impact of that money — those small investments — heightened my awareness around the power of capital. You'd think $100 wouldn't make a difference, but it's a lot when you're stretching to pay a power bill or buy groceries and also keep your business running."
Seeing the impact of that money — those small investments — heightened my awareness around the power of capital.
Kathryn Finney
Founder and CEO, Genius Guild
Equipped with a new perspective on the importance of capital for the Black founder community, she prepared to step away from digitalundivided to plan her next big move. On her last day on the job, George Floyd was murdered. 
---
Thinking big: A vision for a new future for the Black&nbspcommunity
Raised in Minneapolis, Kathryn went to elementary school six blocks from where Floyd was killed. "I had family members deeply involved in the protests and work on the ground that followed, but I couldn't get there myself," she said. "I felt helpless."
As she watched the aftermath unfold and saw social justice advocates raising bail funds and engaging in other financial advocacy work, she started thinking about the potential impact of financial investment in the Black community more broadly. 
A scientist by training, Kathryn's instinct was to dig deep into research to understand the issue, and she began reading about, listening to, and sharing experiences around who benefits most from capitalism — and how — with other founders and investors. "It was the pandemic, after all," Kathryn said. "So all we could do was talk and brainstorm."
The result of all those conversations and research was clear: Traditional shareholder capitalism, in which all reward goes to the owners, wasn't cutting it, especially for the Black community. People were left out; innovation was lagging. The same people were winning over and over.
Kathryn knew capitalism wasn't all bad. She'd seen the impact of big wins and successful exits in her own life. But to make the system work, it had to be restructured in a way that would benefit everyone. Kathryn saw stakeholder capitalism as a better way forward — a future in which employees, suppliers, and community members all benefit from the same systems.
With that in mind, she forgot about the anticipated break after her last job. Now was the time to once again do what she had done her whole life: It was time to build. This time, she would build as a venture capitalist.
Building the damn&nbspthing
The result of Kathryn's efforts is Genius Guild, which exists to recognize, fund, and support Black innovation in business as a force for good in the Black community and beyond.
In this conversation with In the Works, Kathryn talks about the motivation and fierce goals she has for Genius Guild, the personal history that has guided her to this place as a founder, and why this moment in time is so ripe for a celebration of Black excellence. 
---
How did this period of challenge and opportunity create the right moment for you to launch Genius Guild?
I think if you look back throughout global history, it's often out of these times of uncertainty that the best ideas emerge because we're forced to rethink things. 
Against this backdrop, if any group of people — particularly in the context of the U.S. — has vast experience innovating out of uncertainty, it's the Black community. We have a legacy of creating out of these periods. Given that track record, I'm looking to invest in founders who can thrive now and in the future, in a community that has proven its ability to innovate and build.
I've been really excited to bring Genius Guild to life, and the response has been amazing. In 2021, in the first six months we were public, we tracked over 300 formally submitted pitches by Black founders through our online portal. It's been amazing to have the chance to invest in people who are doing really interesting things — ideas that are maybe five or six years ahead of current trends. It really has been one of the most enjoyable periods of my life.
---
Tell me what it's like working with Genius Guild founders and some categories of ideas or industries that you're especially excited about funding. 
I feel so lucky that I get to be with creators every day. In a world where there's a lot of destruction, to be around people who are creating and building instead of destroying is a profound experience. And, not only are they creating, they're seeing opportunities to innovate.
If we want our people to be productive, we have to support founders and companies that are looking at how to facilitate that in our communities — people who are building businesses around caregiving and healthcare and digital economies, for instance. It's an exciting time to invest in those spaces because everything is being rethought. 
We're also very interested in investing in the creator economy because it's being restructured. In the past, in the Black community, our content was monetized by everyone except us. Now, a new group of creators is owning their content — and making quite a bit of money. It has been really amazing to watch that shift and to participate in the change.
When you're listening to a pitch or reviewing a deck, what is it that sets an idea apart and sparks your interest to invest?
One of our limited partners said to me, "You're the most pragmatic VC I've ever met." I said, "That's because I was an entrepreneur first." That experience makes me a little bit different than other VCs in what attracts me to an idea. 
Most VCs are gamblers. They want the possibility of winning a million dollars. It doesn't matter that they're playing roulette and the house always wins. It doesn't matter that they may lose $2 million getting to that million. 
They're often not asking those questions about how a founder is actually going to build it or how they're actually going to generate revenue, at least in the early stage. At the later stages, they do ask about revenue and growth metrics. But in the early stages, for most VCs, it's all about betting on the idea and on a founder's ability to execute.
For me, while the vision gets you in the door with a deck or a pitch, what gets me to invest is that you have actually thought about what your product is, who wants to buy it, and how you're going to get to revenue. You have actually thought about the business itself — not just the marketing and the idea, but how you are going to take this idea and turn it into a business.
So the questions I have for the companies that pitch to me are: "Can you execute at scale? Do other people want what you're doing enough that they will pay for it and pay for it repeatedly?"
It's great to have a vision and a belief — you need that as your north star — but then you also have to build the spaceship to get to the star, right? If not, the star will forever stay in the sky, and you'll always be on the ground. You've got to know how to build the thing that gets you there. 
Beyond your practical experience as an entrepreneur, what personal characteristics or qualities do you think have influenced your career and how you now think about your role as a VC?
I've always been an iconoclast. I don't think the same way other people think. In all the stages of my life and my career, from growing up in a working class — and then upper-middle class — family to living in New York and then living abroad, I've just seen things a little bit differently.
That can be very difficult as a Black woman, because we aren't generally encouraged to see things differently. We're not exactly celebrated for being innovators. I always say that it's really frustrating to be a brilliant Black woman. 
I'm also fearless. I say yes — a lot. I might be nervous at times, but I still say yes. I try to push myself to do things that are totally outside of my comfort zone. I think that fearlessness has served me really well in business and in life. It has propelled me into spaces where I wouldn't have normally been and has provided me a different view as an investor and as a venture capitalist because I know intimately how hard it is to build a company when you're not a white male — and the fearlessness and vision it takes to do that. 
When I talk with founders, I get so excited because I know what it's like to be them. I know what it feels like to have this idea that you're so excited about but that nobody seems to get. I know what it feels like to have a vision. 
This visionary quality drives a lot of my investing. I'm always asking, "Where are the opportunities today and in the future? Who are the people whose ideas or innovations are really going to drive our productivity?" I bring that awareness to my investing.
Where does your visionary streak — that big-picture, future-focused approach — come from?
At age 36, my dad was laid off from his job at a brewery in Milwaukee and retrained to learn to code. With that new skill, he first got himself an unpaid internship and then accepted an entry-level job at Digital Equipment Corporation, an early computing company. 
When he was offered a job in Minneapolis, my parents packed up our purple Chevy Cavalier and moved us to what felt like a completely different world. In taking that series of risks, they offered an incredible example of fearlessness. They took a chance at an opportunity because they had a vision for a better future, and it paid off spectacularly.
Growing up and seeing that outcome let me know that it was okay to have a vision and take a chance — and that the rewards could be great. But I think for many people of color, particularly Black folks in America, taking risks hasn't paid off most of the time. It just doesn't. That experience was a gift that many, many Black children don't get. 
Growing up and seeing that outcome let me know that it was okay to have a vision and take a chance and that the rewards could be great. But I think for many people of color, particularly Black folks in America, taking risks hasn't paid off most of the time. It just doesn't.
I had another example in my grandmother, Doonie, who divorced my grandfather in 1970 and moved from Kansas to Milwaukee. At the time, that was like moving to the moon. It was a whole different world. She moved herself and her daughter, and she created a great life for herself. 
These examples of close family members taking these massive risks — leaving everything and seeing their vision realized — had a profound impact on me.
---
As you noted, many founders don't have that example of vision, risk, and reward, and the chance of failure can be limiting when it looms large. How do you talk with founders about failure?
With founders and with my Genius Guild team, I say "fail fast" — learn the lessons upfront. But even as I say that, I'm very aware of how difficult that is for women, and especially Black women, to consider. For most of us, it's ingrained from birth that it's not safe for us to fail. It's something we're constantly battling. 
I saw this internally with our team early on when we had a conversation about how we're going to build Genius Guild. I said, "We're going to start here, and if it doesn't work, then we're going to try another way. We're going to build and learn."
When I said that, I could see the anxiety in people because we're not generally given space to fail. That limits us because we wonder, If I fail, what will people think of me, and will I get another chance? 
I still worry about this, despite my fearlessness and all of my experience. I know that if Genius Guild fails spectacularly, it doesn't just impact me. I know that it reflects on a whole slew of people, and that's scary. People outside the Black community don't really understand the amount of stress and pressure that we put on ourselves and how the prospect of failure can be limiting.
Last year saw record growth in venture funding and the number of companies that received venture capital. However, of all VC dollars in total, only 2% went to women, which was less than the year before. So while the number of female-founded companies that received VC funding increased, the amount of investment actually decreased. It's like there's a ceiling on the amount that women can raise — all we're going to get is 2%. So the overall increase in VC funding didn't actually impact us. 
In terms of investment raised by Black women, there has been an increase since the ProjectDiane research we conducted in 2016 and 2018, but it's a very, very small movement. There's been more money going to Black women and Black founders, but the percentage has stayed the same. They're getting 2% of a bigger pie.
---
As the founder of Genius Guild and managing partner of The Greenhouse Fund, you're not only supporting other innovative founders as a VC, you're building and growing your own company. What has been especially exciting or fulfilling about your founder experience so far?
What's different and exciting for me, as a founder, is that as a Black woman, I've gone back to owning my work. I own what I produce here, which is amazing. Not only do I own this work, but our team owns the rewards as well through our bonus sharing structure.
I think there is also an appreciation for Black brilliance more broadly today that, frankly, has not existed in my past experience as a leader. There's still a long way to go, but there is now space to be Black and to grow. To have the opportunity to continue to promote the brilliance and innovation of other Black founders and build a company around that mission is amazing.
When I talk about what we want to do at Genius Guild, I say that when you work with us, when you invest with us, you're not just investing in the Black community — because we're not a product — you're investing in innovation and in the fact that this community knows how to seize the opportunity of this time in ways that other people don't. And that's how I communicate what we're about internally, too — as a team, we're innovating and rethinking the venture studio model to benefit everyone.
One of the things that we did at the very beginning as a team to help embrace our mission, which is not typical among startups, is to spend a lot of time, effort, and money on company culture. Specifically, we asked, "What are our core values? What is it that we care about? Who are we?" The number one core value we determined was to "be human." Part of being human is that you can fail. Human beings fail. I think calling that out from the beginning has created a sense of safety for staff members that other companies or organizations might not have.
Tell me about your upcoming book, Build the Damn Thing: How to Start A Successful Business If You're Not a Rich White Guy. What do you hope this book offers the world? 
I want people to know that we are builders and that we are visionary. There's such a rich history of innovation in the Black community, and there is so much possibility right now. Even though we're in the middle of a crisis, there's incredible opportunity for innovation, and it is going to come from people and places that, prior to March 2020, were not recognized.
The solutions for the future we're heading toward aren't going to come from those traditional sources we've looked to in the past — they've actually messed stuff up. We're going to be looking to other groups for new ideas, and I'm ready to support and celebrate those innovators.
The book is meant for those entrepreneurs and innovators who are ready to surprise us. It's a practical guide to building a business from the ground up that includes all I learned living that experience as a Black woman. I know what it's like to enter a room where nobody has any expectations of you and might be writing you off even as you walk in the door — and how to break and remake the rules to actually build the damn thing.  
---
We love the book's title: Build the Damn Thing. It clearly reflects the fearlessness and pragmatism that you've talked about. Has this been a mantra you say to yourself, or is it a call to your community?
I'm always having to say this to myself. I'm a human being — with all the good parts and bad parts. I'm always giving myself pep talks. I think it's the thing that people may not realize about someone like me who's been building in public for so long. There is a tendency for people to forget that you're a human being too. Your humanity kind of gets smashed between Tweets.
So yes, I have to give myself pep talks all the time. The difference, for me, is that the fearlessness I continue to carry at my core allows me to say yes, to sign up for a challenge, and then give myself the pep talk once I've already committed.
---
As someone who offers so much inspirational content to other builders, where do you go for content that fills you up?
I read a lot of business content to stay up on trends, specifically in finance, entrepreneurship, and venture capital, but I love to read things that have nothing to do with business, too. 
I'm currently reading Breath: The New Science of a Lost Art by James Nestor, which is about the importance of breathing correctly. And it's really making me think. One of my favorite books is The Devil in the White City by Erik Larson, which is historical nonfiction but written like a novel, and it takes place in the 1890s in Chicago, where I live. I read a lot of historical fiction.
I also really love magical realism, especially by Gabriel García Márquez. He's one of my favorite authors, period. One Hundred Years of Solitude is my favorite book. I read it at least once a year, usually on vacation when I can just absorb it. 
---
Do you see parallels between your love for magical realism and historical fiction — those pleasure reads that fill you up and expand your imagination — and how you think about funding and building?
Yes, there's definitely a thread of rethinking and imagining the world in a different way. I'm very interested in the alternate realities in fiction and magical realism and the possibilities they reflect. I love anything that gets me to think differently about something, even if it's challenging — in books or in life — because it helps push me forward as a human being. 
I think my tendency to think differently and to see different opportunities has made me a different type of investor. I can see possibilities that other people can't see, not because I'm necessarily clairvoyant, but because I'm always reading, thinking, imagining, and opening my mind to things that other people might not see. I see so much possibility and creativity within our community, which many other investors have missed for so long.
---
Written by Diana Price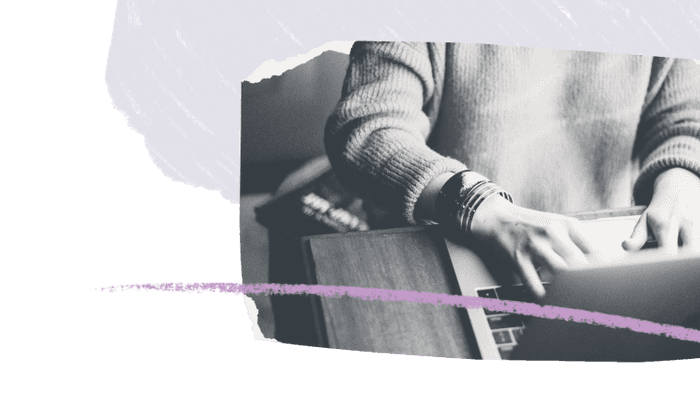 In the Works, in your inbox