Feature Story
Ethical Swag's founder proves that ecommerce can be a force for&nbspchange
Tara Milburn is putting people and the planet first as she scales a successful promotional products&nbspbusiness.
Artwork by Bronwyn Gruet
•
11 min read
By the time she participated in a panel of business leaders at a local community college in 2010, Tara Milburn had already seen her share of swag. She'd collected plenty of logoed water bottles, reusable shopping bags, notebooks, pens, and other promotional products over the course of her 20+ years in corporate careers. But this time was different.
Leading up to the event, Tara, who at the time was serving as director of foreign investment for Nova Scotia's business development agency, had been impressed to learn about the college's financial commitment to sustainability. But later at home, the swag — clearly not sustainable — sparked a feeling of disconnect. 
"I questioned how it could be that the school would spend tens of millions of dollars on sustainability efforts but still promote their organization through products that didn't reflect their values," Tara said. And, given her experience in business, she knew the college was not a lone offender.
In that moment of disappointment, Tara saw a problem to be solved: More organizations wanted to prioritize environmental sustainability — and share that commitment publicly — but the environmental impact of the products, labor, and supply chains it took to fill so many corporate swag bags didn't match up with that priority.
The solution: Build an online business to provide promotional products sourced from suppliers that pass strict audits related to social compliance, environmental impact, product safety, supply chain security, and product quality. 
"I didn't know anything about the industry, and, honestly, I was not out to sell pens for a living," Tara said, laughing. "But I saw a gap in the market and recognized that it represented a pretty significant opportunity." 
I recognized the business opportunity — and also the chance to demonstrate to my daughters the power we have to build for good.
Tara Milburn
Founder and CEO, Ethical Swag
For Tara, the chance to grow an ecommerce business was always about more than the products or the bottom line. From the beginning, her purpose has been to build a company that puts people — her customers and her team — and the planet first.
---
Change, not swag, was the real selling&nbsppoint
When Tara saw the opportunity to launch Ethical Swag, she had the advantage of 25 years of experience in business (with a lot of swag collected along the way). The perspective she had gained from leadership roles in marketing, business development, and cybersecurity provided valuable insight into growing a business — and awareness of the need for change. "I'm a capitalist at heart, but I also saw that there were many ways in which the system just wasn't working," she said. 
Specifically, Tara had seen firsthand how women were so often marginalized in business — especially if they chose to have a family. "I saw this brain trust of women who were being excluded from meaningful career growth because there was no opportunity to also prioritize family," she said. 
At that point, in 2010, there were very few remote work opportunities, and much of the infrastructure for distributed teams hadn't yet been developed. Tara was thinking ahead, though. She saw the opportunity to create a flexible, remote workplace that served business and families.
Tara also recognized another significant — and growing — issue in business: greenwashing. There was a clear disconnect between what corporations were saying about their commitment to sustainability and how they were actually operating in the world. 
Against this backdrop, Tara felt she could be a role model for her family and for other women seeking to make a positive impact in the world through business. She remembers saying to her husband, "Business is broken. I need to do something. I want to demonstrate that for-profit business can be a force for change." 
---
Demonstrating a different way to grow a&nbspbusiness
Today, Ethical Swag is a model of the change that Tara envisioned in 2010. With a laser focus on providing promotional products that are ethically sourced and environmentally sustainable, Tara has built a remote-first business that aligns clients' sustainability efforts with their goals for brand awareness.
She's done so while prioritizing an efficient, joyful user experience that puts customers at the center. The company has created an ecommerce platform that offers easy navigation for shoppers, allowing customers to select products from multiple pre-vetted suppliers. They can filter their search to find products that meet specific sustainability and values-driven criteria: sourced from certified B Corps, women-owned companies, indigenous-made products, or products that support specific social causes.
Customers get in-house graphic design support and have the option to easily build and ship custom, bundled swag packs. "Every aspect of our business today has been developed in response to one question," Tara said. "How do we make it easy for our customers?"
Ethical Swag served more than 500 clients in 2022, with a 120% increase in revenue from the previous year, and is tracking to meet or exceed last year's numbers. The company works with businesses in Canada and the U.S. as well as with international clients with offices in North America.
And, perhaps most fulfilling for Tara, Ethical Swag is meeting its mission to create a meaningful, flexible workplace. The team is fully remote and employs 13 people (12 of whom are women) who log in each day from Canada, Kenya, and the Philippines. "This is why I get out of bed in the morning," Tara said.
Starting as a side gig  
While Ethical Swag in its current iteration can be seen as a model for founders looking to build a customer-centric business, there's another throughline here, too. Tara's story highlights the often unconventional paths — and long timelines — of those launching and growing businesses with purpose. In Tara's case, it took seven years for the seed of an idea to become her full-time priority and six more years to bring her vision to its current state.
When Tara bought the URL for ethicalswag.com in 2010, she was still fully committed to her full-time corporate role — and to her role as the mom of three growing kids. But even within those constraints, she wanted to take a first step. So, she launched what was basically an online brochure, with products and prices listed, but not much else. The business was up and running — sort of.  "I did the thing and then just pushed it to the side of my desk and let it be," she said. 
There were plenty of reasons for the brush off. Tara's demanding day job and family life kept her busy. She also had watched her father, who was an entrepreneur, build a business. "I knew what it would take to get a company off the ground, and I just didn't have the time," she said.
But she never lost her belief in what Ethical Swag could be — and do — in the world. Tara kept the site up and running in her spare time from her desk at home on Cape Breton Island, and she spent 10-20 hours a month fulfilling around 20 orders per year — a far cry from the 500 she fulfills now. In those early years, she leveraged industry associations for product research and order processing, and she put in time to learn.
Then, in 2015, her father died, and Tara entered a period of grief and reflection. She found herself thinking deeply about her purpose and the next chapter in her professional life. Her children were also now grown, and she saw the potential for a shift in her priorities. But she still resisted the idea of fully investing her energy into Ethical Swag.
"There were so many aspects of the business that had me hesitating," she said. "This is not a sexy industry. There is a perception that what we're selling is trashy trinkets, and I was well aware of that." 
But when she really thought about how she could put her business experience and drive for change to work, she found clarity. "The industry itself wasn't actually important," Tara said. "What I cared about was how the business would be built and governed and who we would do business with. Those were the most important things. The business itself was just a vehicle."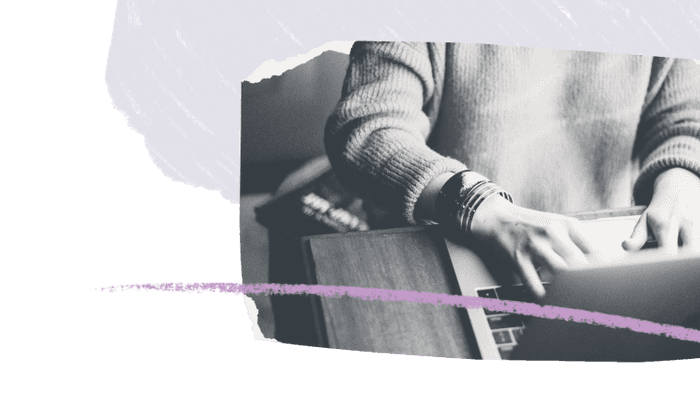 In the Works, in your inbox
Growing from grassroots: Finding the right customer 
When Tara quit her full-time job and committed to growing Ethical Swag, her first call was to leadership at the community college where the idea began in 2010. "I thought, 'Oh, this is low hanging fruit. I know the people at the top, and they've said they're for sustainability. Off we go —  isn't entrepreneurship easy?' Yeah. It didn't happen."
Instead of eager interest, Tara was met with apathy. She tried reaching out to other business leaders she thought would jump at the chance to buy sustainable promotional products. "I would share the idea and all the ways that we could partner around sustainability, and I just got crickets," she said. "I thought I was offering up a solution on a silver platter."
What she came to realize was that while company leaders were setting sustainability goals, they weren't making the operational decisions to meet those goals. Instead, she found her target customers were often in less senior roles, committed to finding sustainable solutions but frustrated by a lack of vendors and by clumsy processes to get the products they needed.
"These customers were technologically savvy and values-driven. They wanted a simple, efficient platform to make the choice that aligned with their values," she said.
Having honed in on her target customer, Tara dug into platform design to best serve their needs. "I knew I wanted to create a customer experience that was more grassroots than corporate," Tara said. "I wanted it to be easy — and fun — to make a sustainable choice when it came to buying swag."
From that point, Ethical Swag prioritized creating a simple, joyful customer journey. While the swag order process can be complex — there are a lot of layers and steps involved in delivering the products and the services the company offers — the goal is for customers to be unaware of any of that complexity.
"I knew that keeping customers at the center would be the key to scaling this business," Tara said. 
---
"I had so much to learn:" A humbling path to growth 
Of course, focusing on customer centricity alone wasn't going to grow Ethical Swag. As Tara continued to dial in the platform and learn about the industry, she faced a lot of other big — and sometimes painful — lessons about building an ecommerce business for the first time. 
"I had to figure out credit card payment processing. I had to figure out supply chains. I had to learn how to complete all my compliance documents. There was so much I didn't know," Tara said. Also on the list of new things to learn: How to hire. Having built the business with the intention of creating meaningful work opportunities, her first hiring experience was, in her own words, "an epic fail." 
Her much-anticipated first employee quit after a week. "When we sat down on that first Friday and I asked her how she thought it was going, she burst into tears," Tara said. "She was totally overwhelmed and felt she couldn't do the job I had in mind." It was a tough lesson. 
"I realized I had spent years dreaming up and planning for this business, and I had spent a week totally overwhelming this person with all of the things that made perfect sense in my head but probably nowhere else," Tara said. 
She spent the next three months creating internal documentation that outlined everything from tech stacks to passwords to business planning. Tara realized she needed to create an accessible, comprehensive source of truth that would provide all of the information a remote team would need to understand and deliver on the company's mission.
It was an essential exercise and one that put her in a good position to actually bring on her first full-time employee several months later — a woman with extensive experience in marketing and business admin who was raising a family. It was just the kind of hire that Tara had dreamed of making when she realized what the company could be.
"When she quit her current position to work with me, it was scary, but it was also affirming. I saw that she had confidence that this work would be meaningful." 
Purposeful partnerships fuel&nbspgrowth
With a full-time employee and an ideal customer profile in mind, Ethical Swag entered 2020 ready to grow. "We rolled up our sleeves and got to work, figuring it out as we went and growing the pipeline," Tara said. Until the growth stopped.
In March 2020, when the Covid pandemic hit, sales at the company went to zero. But what initially looked disastrous, as companies canceled events at the start of the pandemic, became an opportunity for Ethical Swag to learn and adapt. If businesses could no longer gather and hand out promotional products in person, the team asked, what could the company offer? How could they solve the challenges customers were facing in this new normal?
The answer became clear fairly quickly in those early months of the pandemic. Businesses were anxious to nurture their (often newly) remote teams, and they wanted to do so in a way that aligned with their values and a growing demand for sustainable practices.
Ethical Swag had the goods: water bottles made from recycled materials, labeled with a QR code that would connect to a site listing global water projects that the company supported; notebooks for jotting notes during a Zoom meeting made from 100% recycled apple pulp and other vegetable fibers; and cards made from plantable seed paper to give remote employees something to grow in their home workspace. And, in each case, the business could share personalized notes about their commitment to sustainability and to their team.
"The products we delivered were a tangible reflection of an organization's brand at a time when we were all living in a virtual world," Tara said. "They were sustainable, yes, but they also told an important story about values and team connection."
It helped, she added, that Ethical Swag had become a B Corp in the spring of 2020, providing customers a recognizable certification of commitment to purpose, people, and planet.  
The business became a valuable partner to many new customers pivoting to serve remote teams and tell their story at a tumultuous time — internally and in the world. "We became a preferred supplier of Microsoft and provided corporate gifting for Google that year," Tara said. "It was a blur. We ended 2020 38% up over 2019." 
And the company's head count grew, too: Between March 2020 and June 2023, Tara hired 10 employees. Seeing the team grow was especially meaningful, but the rapid scaling was not easy. "Onboarding each new person, ensuring everyone is equipped to do their jobs, and keeping up with the daily work of running the business can be tough," Tara said. 
The earlier work of planning and documentation, though, served the business well. Tara is grateful to see the fruits of those efforts paying off. "Managing growth is tough, but I'm glad to say we're thriving today."
---
Up next: More of the (remarkable)&nbspsame
The vision of creating a different model for business success is still just as motivating for Tara today as it was 13 years ago. Having built a B Corp ecommerce business from her home office, with a globally distributed team made up almost entirely of women, she has delivered on her own goal to prove that business can be profitable and a force for change. 
And she's not ready to slow down: "I'm at what many people would assume is the tail end of my career path," she said. "But I've got more to do." 
I want to continue to demystify the process of building a company, and normalize a different vision of who is leading and working in business. I want to keep demonstrating that there's a different way.
Tara Milburn
Founder and CEO, Ethical Swag