Feature Story
Hello Alice is making way for the New&nbspMajority
Elizabeth Gore and Carolyn Rodz want all small business owners to have equal access to resources and&nbspfunding.
Artwork by Bronwyn Gruet
•
6 min read
By age 27, Carolyn Rodz had founded — and closed — her first startup. Having left a career in investment banking to launch a retail stationery business, she bootstrapped the company and ran it by herself for over two years before deciding to close it. While the failure was humbling, she still knew she wanted to build again.
Equipped with the lessons of her first business, she began to think about her next venture. She read everything she could get her hands on about building a business, and she reached out time and again to other entrepreneurs and experts, building a network. She put all that she was learning to work, and she grew a business organically. Five years after she launched her digital marketing firm, Cake, she successfully sold it.
For Carolyn, the two very different outcomes of her early ventures revealed the immense impact of two resources — capital and knowledge — on a founder's startup journey. "Many opportunities only opened up after I sold my business," she said. 
It frustrated me that it took over a decade to build the credibility as an entrepreneur that many others started out with because they had resources and networks that I originally lacked.
Carolyn Rodz
Co-founder, Hello Alice
As Carolyn was launching and learning as an entrepreneur herself, her future co-founder, Elizabeth Gore, was gaining insight into small business on a global scale. First as a Peace Corps volunteer in Bolivia, then during a decade at the United Nations Foundation, and eventually through five years as entrepreneur in residence at Dell, Elizabeth repeatedly saw the grit and impact of small business owners and the hurdles they face. "Entrepreneurs don't lack ambition — but they do often lack access to capital and other necessary resources," she said.
After meeting socially and then continuing to cross paths in entrepreneurial circles over the years, Carolyn and Elizabeth realized they shared both an awareness of the challenges small business owners face and excitement around the opportunity to support them. The two women seized that opportunity in 2016, founding Hello Alice as a platform to help underrepresented small business owners navigate launching and growing a business. 
The platform connects each owner with content, grant and loan opportunities, and a network of their fellow entrepreneurs and experts based on the unique characteristics (like location or industry) of their business and the specific stage of their growth.
"At Hello Alice, we're supporting the New Majority — women, people of color, U.S. veterans, the LGBTQ+ community, entrepreneurs with disabilities, and more — with wrap-around service and education to help them make smart business decisions," Elizabeth explained. 
Today, six years into their entrepreneurial adventure, the co-founders continue to build the resources and capabilities of Hello Alice to help small business owners break barriers — to learn, access capital, and build their networks. With a community of over 800,000 owners in all 50 states, they're committed to building the largest community of small business owners in the country, all while tracking data and trends that will help inform future success in this community. 
---
The Hello Alice mission is personal 
The commitment to serving entrepreneurs that drives Hello Alice is deeply rooted in the co-founders' core belief that small businesses have the potential to transform their communities.
The daughter of an American father and Bolivian mother, Carolyn grew up splitting her year between the U.S. and Bolivia, where her mother's family owned a cookie and bread factory. "In Bolivia, I witnessed the ripple effect of small businesses within a community," she said. "I saw the positive impact of a small business on the lives of its employees and other business owners who were connected to the company." 
In the U.S., she watched her father experience the roller coaster of entrepreneurship when he left a corporate job to start a commercial insurance business from the ground up, creating jobs and supporting the family. "I saw my father live the American dream. I saw the ambition, possibility, and opportunity of this country," Carolyn said. "I also saw that entrepreneurship is difficult everywhere, and that it requires hard work and grit."
As a Peace Corps volunteer, Elizabeth also got a firsthand look at the many universal challenges small business owners are up against — as well as the power they hold. "Through programming and travel with the U.N., I saw the economic freedom small businesses offer to so many people," she said. 
Later, at Dell, she was tasked with finding technology and tools to support growing small- and mid-sized businesses and to advance global entrepreneurship. "When I met with entrepreneurs, no matter the stage or size of their business, if they had access to technology and capital, they had a better chance of succeeding," Elizabeth said. And the opposite was also true: "The digital divide and lack of capital (and biases around capital) become significant barriers for so many people."
Carolyn and Elizabeth shared a deep understanding of the challenges faced by underrepresented founders — those who may not have access to networks or knowledge when they start their businesses. They may not have the capital or the professional community that will help them grow; they may live in a rural area, far from a funding or business hub; they may be a veteran, and therefore less likely to qualify for a loan because of gaps in their financial history due to time spent on active duty; they may be a Black entrepreneur facing systemic bias that led to just 3% of venture capital being allocated to Black founders in 2021. 
"We saw that there was tremendous opportunity to serve owners through a platform that could bridge that gap to resources," Elizabeth said.
---
Part of the New Majority: From personal experience to broader&nbspbenefit
While building Hello Alice, Elizabeth and Carolyn continually tap into their own experiences as women founders to help others overcome the most common barriers to building a business. 
One challenge the two women know well: access to funding. "As part of the New Majority, we've experienced how difficult it is to raise capital as a woman — even more so if you are a woman in technology," Elizabeth said. "The space is male-dominated, and stigma is often unavoidable, which means it's tough to get the support you need." 
Only 2.3% of venture capital funding went to woman-owned businesses in 2020, and women both apply for and receive business loans at rates lower than men. And, Carolyn noted, the numbers trend in the wrong direction for women from nonwhite backgrounds within that already small slice of the pie — another personal experience that drives the co-founders to support other owners. "Latina-owned companies, like Hello Alice, receive less than 1% of venture capital in this country, and we feel the impact of that reality," she said. 
Having lived these funding challenges herself, Carolyn felt compelled to offer a hand up to others facing the barriers that had been so tough for her to overcome. After she sold her second business, she launched the world's first completely virtual accelerator (initially called Circular Board, and then Alice). The accelerator supported more than 300 women from across the United States and internationally and helped women founders raise more than $91 million in capital. 
The accelerator also offered something else — the seed of an idea — by providing even more insight into the inequities women face as business owners. "I saw clearly that many barriers result mainly from a lack of awareness and access to existing resources and networks," Carolyn said, "and that these are problems that all New Majority owners actually face." 
The success of the accelerator and the potential for broader impact was the inspiration for Hello Alice: "The response was so positive and the outcomes were so tangible," she said. "I recognized it was a model that could be scaled to millions of small business owners." 
Not surprisingly, raising the capital to launch Hello Alice brought to light the very barriers the co-founders were working to break. "We did ultimately close a $21 million Series B round," Carolyn said, "but we were told 'no' over 200 times in our early years. We learned a lot from the 'nos' — and how to turn them into 'yes.'" 
They've continued to draw on those lessons through the pandemic, alongside the owners they work each day to support. "Like so many entrepreneurs, we were trying to navigate virtual school for our kids, caring for our parents, and pivoting our business strategy to best support business owners during Covid," Elizabeth said.
While it was a tough stretch for the co-founders, they found strength from other strong women in their lives. "We both had exceptional grandmothers who encouraged us to 'hold our heads up high and give 'em hell,'" Elizabeth said. "As mothers, sisters, partners, and executives, we know the best way we can make an impact is to bring our whole selves to each action we take, so that's what we've continued to do."
---
Building for the&nbspbuilders
The co-founders continue to see their own challenges reflected in the most common barriers faced by the business owners they serve. "Hello Alice is the resource I wish I had when I started my first business," Carolyn said.
To tackle the central issue of the lack of access to funding, Hello Alice offers a wide range of grant programs for small business owners, which are tailored to and designed to connect historically underrepresented groups with dollars and mentorships, as well as a financing marketplace. "The marketplace includes financing options from 90+ lenders, hand-selected by us, that offer inclusive lending options," Carolyn said. As they explore funding options, owners are also given access to learning resources to better understand various forms of capital through guides, articles, workshops, and more. 
Hello Alice is also building communities and networks that can offer business owners support and additional growth opportunities. "While they don't always use the word 'community,' owners tell us that entrepreneurship can be isolating, frustrating, exhausting, and exhilarating," Elizabeth said. "They want to surround themselves with other entrepreneurs and not only learn from them, but simply connect with people they can relate to and who can relate to them."
Owners tell us that entrepreneurship can be isolating, frustrating, exhausting, and exhilarating. They want to surround themselves with other entrepreneurs and not only learn from them, but simply connect with people they can relate to and who can relate to them.
Elizabeth Gore
Co-founder, Hello Alice
Owners can join a wide range of communities within the Hello Alice platform — some industry specific, some formed around common challenges or stages of growth, and many created together with corporate partners who can provide unique expertise, mentorship, and funding opportunities.
Developing the most relevant content and support is an ongoing commitment, Carolyn noted: "We continue to launch targeted resource centers to support specific communities, including the Military-Connected Business Resource Center, the Hispanic Business Resource Center, and the Black-Owned Business Resource Center hosted in partnership with the NAACP." 
By providing both tactical resources and opportunities to connect, Hello Alice meets owners where they are on any given day. "Sometimes our owners need education or tools, some days they need a little push or motivation or support," Carolyn said. 
---
Why they do what they&nbspdo
As Carolyn and Elizabeth continue to grow the platform to serve more owners, the work of Hello Alice is focused both on changing the lives of small business owners and their communities, as well as larger, systemic change. "I see ensuring equal access to capital and networks to women, people of color, and U.S. veterans as our greatest economic investment as a country," Elizabeth said. "If we can make a difference here, we will have a different country."
"There is nothing more satisfying than watching an entrepreneur open a door that changes the trajectory of their business forever," Carolyn added. "It's our goal at Hello Alice to do that at scale, so every small business owner willing to put in the hard work required is able to grow their vision. That's why we do what we do!"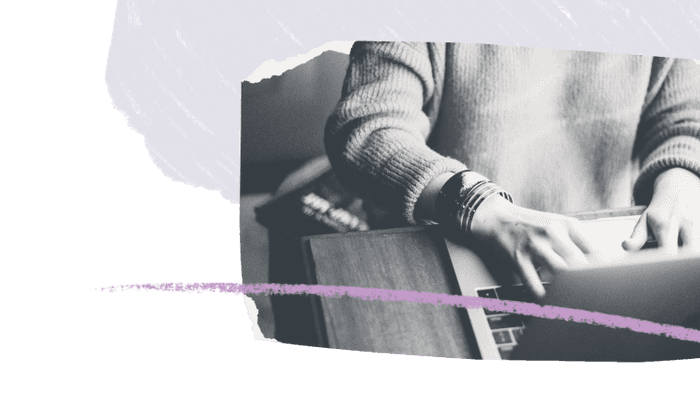 In the Works, in your inbox