Grow
Scaling systems to scale your shop: How to support your growth with the right&nbsptools
Learn how one ecommerce founder is integrating powerful tools to grow her business, and get practical tips for scaling your own Shopify&nbspstore.
Illustration by Bronwyn Gruet
•
9 min read
There's a reason they're called "growing pains."
Seeing your ecommerce business grow is exciting. It means you've got a great product, your marketing is finding your audience, and your processes are in place — at least for now.
But there can be challenges with growth, too. The tools you originally put in place to launch your shop may not keep up with the demand on your business. Will you be able to fulfill a higher order volume? Balance customer acquisition and retention? Reply to all your customer service requests in a timely manner?
It can be tough to know when it's the right time to scale certain aspects of your business. At what point does it make sense to overhaul systems and processes within your ecommerce shop — or maybe the whole thing?
And — perhaps the biggest challenge of all — can you remain true to your values and brand as you grow?
To learn more about scaling a Shopify store at the right time and with the right tools to meet the demands of your growing customer base, we talked to a founder who's been there: Brandy Mercredi of Franc, an ethically-made loungewear brand based in Canada. Brandy shared some software tools and practical insights that helped ease her own growing pains and might help as you scale your business, too.
Riding the waves: How Franc's founder adapted to change and responded to demand 
For Brandy, scaling came in several waves. She founded Franc in 2017 after she had previously worked as a clothes designer for several other companies. Throughout her earlier career, she kept seeing what she described as "major problems" in how things were run in the fashion industry, specifically when it came to sustainability and the treatment of workers.
She wanted to address those issues with her own brand, and by dipping into her savings and with loans from Futureprenuer and the Business Development Bank of Canada, Brandy launched Franc. From the beginning, she set out to create processes that reflected her values, including finding local manufacturing facilities she could visit in person and where workers were fairly treated. From that intentional start, she built the business to align with her ethical standards, a journey that has included several waves of growth — and necessary change.
The first wave of change came two years into the life of her business. Brandy was running Franc out of a two-bedroom apartment in Toronto. She had all of her stock in a wall of Ikea cabinets, and she was packing every order herself — by hand. A growth in demand prompted the need for a new way of doing things. Her order volume had increased, and running the business from home was no longer an option.
"The first, biggest step to scaling was to move to a 3PL (third-party logistics provider)," she said. That service, which stores inventory and sends out orders as they come in, was a major shift for Franc. "At the time, that need for logistical support inspired the first big change."
Brandy's situation isn't unique; recognizing that the systems you have in place are no longer working prompts pivots for many ecommerce businesses. The tools and processes you put in place when you started your business made sense at the time, but they may not make sense as you grow.
When those original systems fall short, the result is pretty clear: You can't keep up with your orders — whether it's because you can't pack them fast enough, you don't have enough inventory, or both.
---
Scaling service to support more&nbspcustomers
After outsourcing logistics during the first significant wave of growth, Brandy encountered a second failure of her original systems at the beginning of the pandemic. As people moved to working from home, demand for loungewear rose exponentially. Franc's line of soft and cozy sweatpants, t-shirts, and sweaters are ideal work-from-home staples, and Brandy saw her sales rise accordingly. 
That meant she had to reassess her inventory volume and manufacturing needs as well as other aspects of a higher order volume, like customer care. More orders meant more returns and more customer inquiries that she had to address.
That led her to add a customer service portal to her tech stack — an app that would pull customer messages into one dashboard from wherever they originated, whether that was email, social media, or the site's chatbot. During that period of scaling, she added more tools and services out of necessity to help her generate barcodes from SKUs, handle returns, and more.
Four years in, my inbox was just overwhelming. It's hard to filter through customers and suppliers and everything all together. Incorporating a customer support platform was huge.
Help desk software for customer-centric founders
Help Scout's platform is easy to start and built to scale as your business grows.
Free 15-day Trial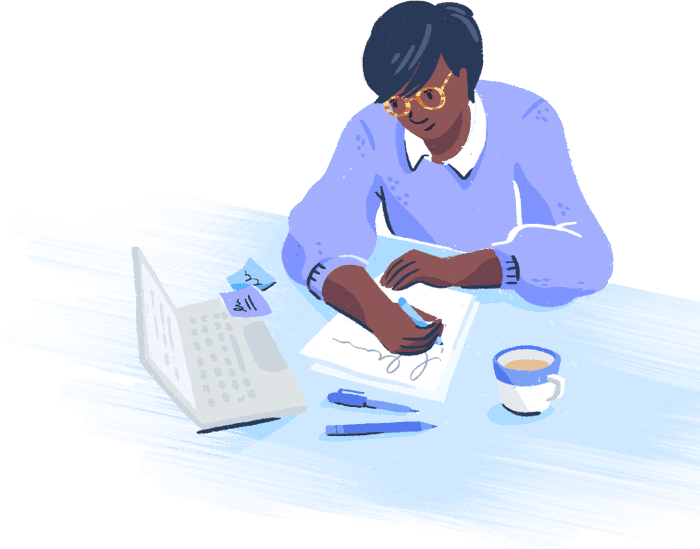 Beyond the bottleneck: Automating for&nbspgrowth
The theme of all these upgrades: automation. Each additional app or service took a manual process and turned it into an automated one that saved Brandy time and energy — which is critical when scaling an ecommerce business. 
"Once I start to hit a bottleneck, I'll do some quick searches to find out the best affordable app or integration that I can use that would help ease that particular pain point. With such a small team, I can't just pass off a task to someone or hire someone for a job that adds extra hours to my day but isn't a full-time job," she said.
Automating to increase efficiency has been instrumental to Brandy's success as an entrepreneur —  because even as her business has grown, the Franc team remains small. She only employs one part-time employee, alongside a team of contractors.  
Let's take a closer look at some tools, platforms, and Shopify integrations that have helped Brandy continue to scale Franc and can help you continue to grow your own ecommerce business.
Stock your toolkit: Grow your ecommerce shop with apps and&nbspintegrations
If you're looking to grow your business, these tools can help you scale.
---
For customer service: Help&nbspScout
As your business grows, you'll find yourself fielding more and more customer inquiries, all from different platforms and with different needs. Help Scout puts all those inquiries into one communication platform, making it easy for teams to work together in email inboxes like support@ and info@, offer live chat, build help centers, and use automated workflows. 
Help Scout also integrates seamlessly with Shopify, pulling in customer info and order history. That makes it easy to personalize every communication and reference the exact order a customer is inquiring about. For teams of multiple people, that means avoiding the guesswork about who has replied to what — and it's all in one dashboard. Help Scout also offers key metrics like the lifetime value of a customer and average order value.
If your business is growing, it's critical to maintain and improve upon your customer service as you scale. Help Scout is an ideal choice for small and growing businesses. The collaboration enabled by the platform's shared inbox and features like saved replies, collision detection, and internal notes will empower you to get more organized and efficient as your business grows. And, if you have questions along the way, Help Scout has a ton of helpful articles and guides related to sustainable ecommerce growth, covering topics that range from best practices to boost sales to guidance around KPIs and performance metrics to customer lifetime value.   
---
For marketing automation:&nbspDrip
Brandy's solution for email marketing is Drip, an intuitive email builder to build marketing campaigns that convert.
It has the power to segment your customers to refine your marketing strategy and make sure you're delivering the right messages to the right people. Automations built into the app — which integrates with Shopify — make this even easier.
It can also help you build forms, pop-ups, quizzes, and more to capture emails.
---
For returns:&nbspReturnBear
Every ecommerce entrepreneur knows what a headache returns are. They're expensive, they're time-consuming, and customers often don't enjoy the experience.
ReturnBear is a Canadian start-up whose platform integrates with Shopify and streamlines the return process. It handles the end-to-end logistics of returns, including handling, processing, and refurbishing items. For Brandy, that means ReturnBear takes care of the details and sends products back to her — freshly steamed. 
ReturnBear operates in Canada, but some great alternatives include AfterShip and Loop.
For social media management:&nbspBuffer
It's now the norm that ecommerce brands have multiple social media channels, and they all need to be kept up to date and monitored. Franc, for example, has accounts on Facebook, Instagram, Twitter, TikTok, and Pinterest. That's a lot to juggle, and that's where Buffer comes in.
Brandy uses Buffer to manage all of her social media accounts in one place. Buffer is a scheduling tool — you can plan your posts for different platforms from one dashboard. It also uses analytics to show your growth and engagement over time as well as suggest the best times to post on each platform. 
---
For store data:&nbspMatrixify
As your ecommerce store grows, so does the amount of data you're juggling. You may hit a point where it's impractical to do everything manually within the Shopify dashboard.
Matrixify allows you to do bulk imports and exports of store data like products, collections, customers, and discounts to and from spreadsheets. It's also useful if you're switching from another ecommerce platform to Shopify, since you can easily take all your data with you. And, for an extra layer of security, it can back up and restore all that data.
---
For image processing: VF Image&nbspResizer+
You probably have a ton of image assets for your products, and as you grow you'll only have more. Cropping, resizing, and writing alt-text for each one can be time-consuming, but VF Image Resizer+ is an automated batch editor that can process all your images for you. 
It makes sure all your product images are uniform and optimized for web as well as SEO.
---
For customer loyalty:&nbspSmile
When you're growing, customer acquisition is key. Once you've been growing consistently, customer retention is going to become critical.
Smile is a loyalty and rewards app for Shopify that allows you to create a customized loyalty program that encourages repeat buyers. Shoppers can earn and redeem points built on a system you develop, and it integrates with other apps like email tools to promote your program.
Remain true to your values and your customers as you&nbspgrow
Taking care of your customers is more important than ever: Recent research found a whopping 73% of customers will abandon a brand after just one bad experience. And that number is growing over time. Only 66% said the same in 2022, and 42% agreed in 2021.
Customer service solutions that keep your customers at the center of your shop should be a top priority when scaling your ecommerce business. Loyal customers will return time and again and stick with your brand as you scale — but only if you maintain a high standard of service.
Along with delivering a top-notch customer service experience, personalization is key — especially as you grow. Customers prefer brands that understand their individual needs, and 70% say they're frustrated by impersonal shopping experiences.
"Since we're an online store, I think it's super important to make sure our customers feel like they're part of a community and having a great shopping experience," said Brandy.
For Brandy, staying true to her vision and values helps her stay true to her customers and prioritize their experiences. While it can be tempting to look for the easiest solution as you scale, she has been committed to finding fixes for growth that keep her customers and her own ethical standards in focus. That includes continuing to only use sustainable materials and ethical, local manufacturing as the business grows. It also means streamlining her internal processes, making the customer experience that much more seamless.
"I do not even consider options that may be less expensive and more profitable but could be detrimental to the environment and customers," she said. "I don't see another way of growing — those founding values are core to the brand. If solutions aren't aligned with our ethical standards, we won't consider them."